Hiring a bookkeeper can help you in many ways. They ensure accurate and up-to-date records of your organization's financial transactions and make sense of your data. Since the bookkeeper knows and handles all the financial data of the company, it is important that you hire the right person for the job. How do you find the right employee to get the job done for you? In this article, we have summarized the qualities of a great bookkeeper to help you find the best person to oversee your business financials.
What are the Qualities of a Great Bookkeeper?
1. Competent and Reliable
Bookkeeping is a professional work that needs word of  knowledge. The right person should have an adequate knowledge of bookkeeping principals, and tax and accounting implications. They must also have the ability to know and deliver anticipated results. Aside from these, a good bookkeeper has the capacity to understand your professional objectives.
When considering an applicant, inquire about their experience and ask about how they would handle certain situations, and how they plan to deliver your requirements and expectations.
When outsourcing bookkeeping services, look for companies with a long-standing history. Review their client's testimonials and opinions about the kind of service they provide. The bookkeeper's competence and reliability are crucial things that will assure your business that you've chosen the right bookkeeper for the job.
2. Trained at Accounting Software
Although skills at manual bookkeeping are still essential, a great bookkeeper must be trained and adept in using accounting and cloud based soft-ware. A bookkeeper who knows how to use and leverage the latest accounting software and technology can provide a more efficient service and save work time.
Aside from understanding your company's assets, liabilities, income, expenses and equities, your bookkeeper should be able to provide you with real time financial reports and analysis, and insights of your financial progress.
3. Certified and Registered as BAS Agent
A registered BAS agent can help you navigate the different requirements of the Australian taxation system. They can also help you obtain maximum tax benefits and avoid penalties. With a certified and registered bookkeeper, you can assure that you have someone with an appropriate level of professionalism under the statutory code of conduct. You will also have the peace of mind that your data is handled with honesty and confidentiality.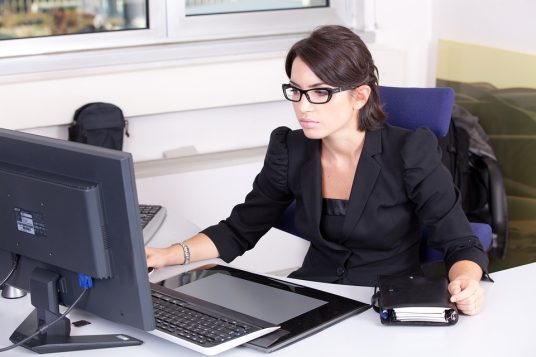 4. Well-Organized and Efficient
Since they will oversee your company's every financial transaction, the ideal bookkeeper must have stellar organization skills. They must be able to keep data well-organized and error free despite carrying out multiple accounting tasks. The ability to deliver requirements and reports efficiently and on time are also key qualities your bookkeeper should have for their maximum contribution to the financial success of your business.
5. Excellent Communication Skills
You may question why bookkeepers need excellent communication skills when they mostly deal with numbers. It is important, however, for your bookkeeper to be able to interpret what the numbers mean and explain it to you and your investors in an easy-to-understand manner. A bookkeeper with superb communication skills can proactively communicate with you, follow up on tasks and requirements, and understand your exact requirement.
Sometimes, bookkeepers deal with your staff, managers, suppliers and customers. Proper communication on their end can help enhance your business relationship with these people.
6. Good Understanding of the Industry
A bookkeeper with a good understanding of your industry can quickly relate to your business processes and requirements. There are bookkeepers that specialize in certain industries. These professionals can give you a sharper service and a more informed approach in handling your data. They can also quickly spot patterns, oversights and errors allowing you to save more on taxes.
7. Ethical and Trustworthy
This is a very important trait to look for when hiring a bookkeeper. Since you entrust them with the financial data of your business, you must make sure that you hire someone with integrity. Your bookkeeper should religiously provide you with accurate and timely data of your business transactions.
To protect and ensure the privacy of your data and to protect your business, you can have a confidentiality agreement in place. When hiring a new in-house bookkeeper, make sure to be thorough in the interview to ensure their trustworthiness. Outsourcing bookkeeping services is a safer practice since bookkeeping firms keep their standards high to maintain the quality of their service.
8. Transparent
Your bookkeeper should be transparently honest about the financial data of your business. The bookkeeper's records and reports give you a complete and understandable picture of your company's financial position. A bookkeeper who hides figures from you can cause you to lose money, pay fines and set you up for a financial disaster.
9. Client Centered
The ability to maintain a good relationship with you and their other clients is an important trait of a bookkeeper. A great bookkeeper is attentive to the needs of their clients, mindful of the risks that the clients are exposed to, and alert of the opportunities the clients may benefit from.
10. Flexible
Different industries have different bookkeeping needs. Your bookkeeper must have the flexibility to handle records and data from various types of industry. This is especially helpful for entrepreneurs who run multiple types of businesses. Outsourced bookkeepers are flexible. Since they handle multiple clients, they have experience in different industries. Employing the service of a bookkeeping firm may help you better keep track of your books if you have multiple businesses.
Australia's bookkeeping experts, ACT Bookkeeping Services, is the country's leader in virtual accounting. Our certified bookkeepers have all the qualities you need in an excellent bookkeeper. Here at ACT, we deliver up to date and real time Cloud based reports. We also understand your business needs and goals to help you develop a plan for profit using a range of tools. We are available for consultation 24/ 7. Call us today and talk to one of our friendly experts about your bookkeeping needs.