There are 4 steps to follow in order to invite Adviser to your MYOB Essentials business
If you're an administrator user, you can invite one or more accounting advisors to access your MYOB Essentials business at any time. So long as they are an MYOB Partner, an accounting advisor could be your accountant or any other person that you may want to help you with your business.
1. Sign in to your MYOB Essentials business as an administrator user.
2. Click your business name and choose Advisors.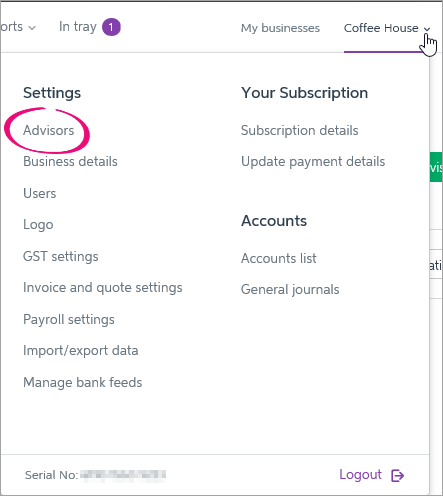 3. On the Advisors page, click Invite advisor.
4. Enter office@actbookkeepinggroup.com.au as the email address and click Send invitation.
The invitation is sent to your advisor. A message appears next to the advisor's email address that the invitation is pending.
When the advisor accepts their invitation, they'll be prompted to log in with their MYOB account details or create an account.
Note :
If after a few days your advisor hasn't accepted the invitation (that is, it's still pending), this could be because the invitation has been sent to the wrong address. Check their email address and follow the steps 'To resend an invitation', below.
Alternatively, your advisor may not be an MYOB Partner. In that case, you can still send them a file containing all your transactions and account balances, so they can work on your books. For more information see Export for Accountants.